Pink Dog Collars
Modern luxury living is not complete without pets, especially dogs. Well-trained puppies and dogs add pleasure, comfort and companionship in a home. Consequently, dogs and other pets need to be trained, controlled and dressed fashionably. To this end, pink dog collars and bandanas come in handy. Dog collars are used for the following purposes.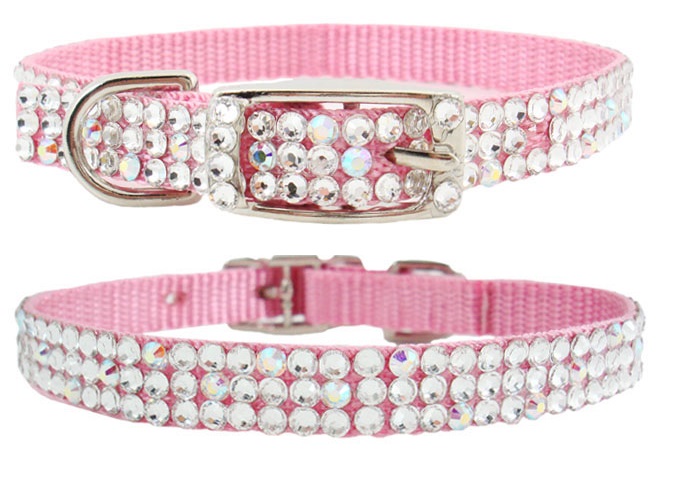 They act as handles for grabbing and controlling the dog during obedience and agility training. They are also used for identification purposes. For instance, identification tags are usually attached to buckle collars. Medication information is also attached in some collars. Flea collars are made with flea repellent materials, keeping fleas at bay. If a dog has a wound or an infection, Elizabethan collars prevent it from scratching the infected area or the wound, enhancing quick recovery Other collars such as stud collars are used as fashion accessories.
Buying Tips for Dog Collars
When buying collars for your dogs and puppies, you need to consider the following factors:
Safety.
A collar should not endanger the safety of your dog. You may consider breakaway collars and safety stretch colors to avoid a possible strangulation and other harmful effects to your do.
Ability to conserve the hair or fur of the dog.
Depending on whether your dog is short-haired or long-haired, the collar should not affect the dog's hair. It is therefore advisable to buy fur saver collars to conserve your dog's fur.
The function of the collar.
Training collars are supposed to be selected carefully to ensure that there is the correct interplay of safety and ease of control. In the same vein, flat collars, choke collars and prong collars should be chosen appropriately depending on the training level and type. Martingale, wolf, force and lighted collars are also designed for specific purposes. A case in point, a lighted collar makes a dog visible to motorists at night while a wolf collar is suitable for dogs that look after livestock. If swimming is your dog's cup of tea, buying a flotation collar is a step in the right direction. It enhances buoyancy when the dog is in water.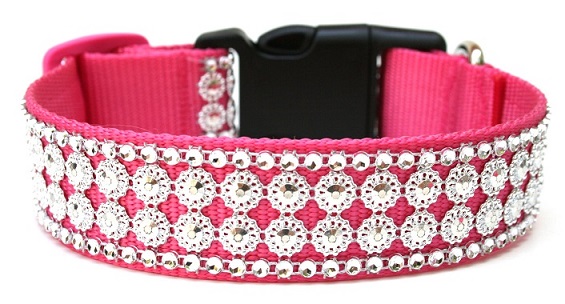 Legal conditions.
The use of some collars such as shock collars is prohibited in some countries. This is because they are electric and thus hazardous sometimes.
Color.
For a female dog, pink dog collars will do. For male dogs, black, grey or blue collars are recommended. The color of the dog's fur will also determine the right collar color. For instance pink dog collars go well with dogs whose fur is reddish.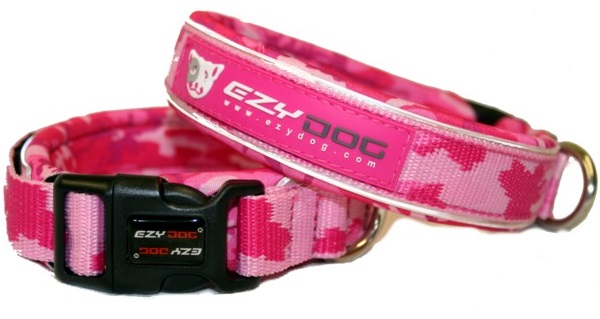 Material of the collar.
Leather collars are common especially if they are available in various color types. A case in point, pink leather dog collars go well with dogs with a fellow fur color. Pink diamond collars will add glamor of the most profound kind to your dog's training outfit.
Size.
You also need to consider the size of the collar in relation to the size of the dog or puppy.
Cost.
You can get a dog collar of your choice depending on your budget. The desired effect of the collar also matters. For instance, though painted collars are expensive, they are trendy and fashionable. On the same note, pink spiked dog collars are durable, beautiful and classic.
Several other accessories are used together with collars to make the training, fashion and control functions complete. They include neckerchiefs, scarves, harness and bandanas.
Dog Bandanas
These trendy dog bandanas are used both as collars and as fashionable accessories. They are available in a variety of fabrics, designs, colors and sizes. They go well with most collar types and designs. For instance, pink camo dog collars will look good in a dog especially when styled with pink bandanas.