Best Rolled Leather Dog Collar
Dog collars provide with a sense of security to pet owners as well as their dogs. These collars also help identification of dogs. Dog collars are used for discipline, training and decorating purposes. You can find a variety of dog collar styles to choose from. It will depend on the use, breed and size of the dog. Rolled leather dog collar can be most suitable for your dog.
Dog collars are made from different materials such as cotton, leather, metal and nylon. Each one has its positive attributes. Leather is the most popular material used for making dog collars. It is long lasting, durable and breathable. The leather dog collars are mostly used with larger and stronger dogs. Leather collars offer a classic look on any dog. They require minimal care. Though they hold up dirt and grime, yet they can easily be cleaned and treated to give a brand new look again.
There are mainly four types of leather collars for dogs:
Rolled Leather Collar
The rolled leather collars for dogs are also called round collars. These collars provide more thickness. The making of the beautiful handcrafted collars involves more than 20 steps in production starting from selection of grain bridle leather. The collars are formed, and then stitched. The edges are rounded and polished. These are fitted with die cast, polished and nickel-plated hardware, including buckle, D ring and rivets. Each collar is handmade from the finest bridle leather to look beautiful and provide comfort, durability and minimal stretch. The leather is tanned to meet the desired specifications.
These soft and supple rolled leather collars are most suitable for dogs with thick coats and long hair. They prevent the dog's fur from getting frayed, matted or tangled around the collar area on the neck. These collars also look beautiful on dogs that have short fur.
A rolled and hand stitched leather collar is fitted with a hardware including a slip or a buckle made with solid brass or other metal. The fittings include rings for a tag and leash. The hardware is nickel plated for rust and corrosion resistance. These collars are available in a variety of widths and lengths. You can also get a matching rolled leather leash.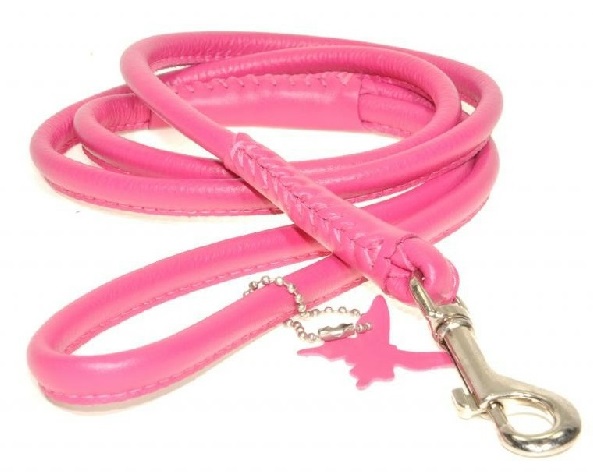 Rolled leather dog collar is available in almost all colors. These can be decorated according to choice of dog owners. One can find the dog collars adorned in several ways. Many people prefer a pink rolled leather dog collar. The pink color can represent femininity, gratitude, spring, admiration, appreciation, sympathy, love, health and joy. The pink dog collars come in light or rich, luxurious pink color and in fashion as well as personalized styles.
Dog Bandanas
Dog bandanas are made from triangle shaped fabric and used to adorn the dogs, generally for adoption events. These bandanas are colorful and may have a theme. These are made to size of the neck with extra length to tie a knot. One can use a bandana that slips over the collar of the dog and will not fall.
Selecting Rolled Leather Collar:
While selecting the best rolled leather dog collar, there are several things to look for.
The collar should have a correct fit to keep the dog safe. A too loose collar can easily slip and come out of his head and there is a risk of it getting hung up on any object. The tight collar will make the dog uncomfortable and make breathing difficult. It should have the length 4 inch larger than the circumference of the dog's neck. It is better to refer to the sizing guide of the manufacturer.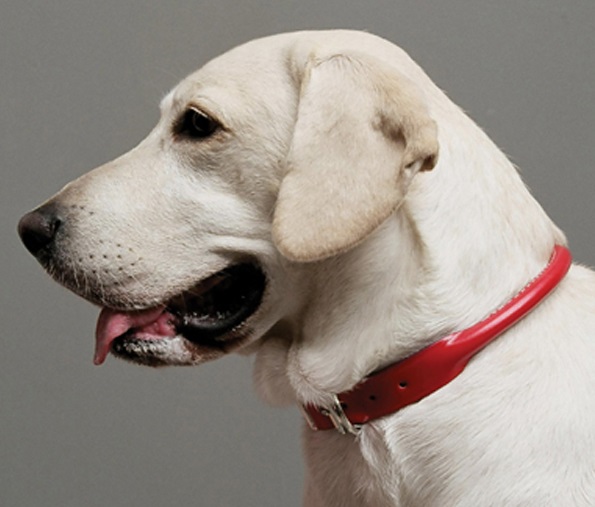 Select the leather that suits every day wear and will last longer, especially, if your dog spends more time in the water. Bridle leather will be best. Go for the supple leather dog collars. Quality rolled leather collars are provided with an extra piece of leather that is glued and stitched between the two edges for reinforcement. It provides a smooth and round surface to the dog. The stitching should be even and not frayed or torn.
The buckle should be thick and strong with the rounded edges and have a corrosion resistant nickel or other coating. The hardware should be riveted to the leather. The tongue holes in the collar should be evenly punched and smooth.
If one understands about the construction and use of a rolled leather dog collar and keeps these important points in mind, one will be able to select the best collar for the dog.