Camo Bandana and Its Many Advantages
A camo bandana, or also popularly known as camouflage bandana, is a fabric that resembles the shape of triangles that is normally worn by dogs for various purposes. Some people use them to dress up their dogs for special events while others for no reason at all. There are four major color variants notably: pink, green, blue and gray color variants. All bandana types are machine washable and one doesn't need special clasps to fit them on the dog – one only needs to tie it around the neck.
Before buying a bandana for your dog, it pays to know a little bit of valuable information about it. This way, you'll know what to look for, what to expect in stores, and how much money you should prepare for it. Once you have understood these factors well, you are all geared up for your bandana shopping.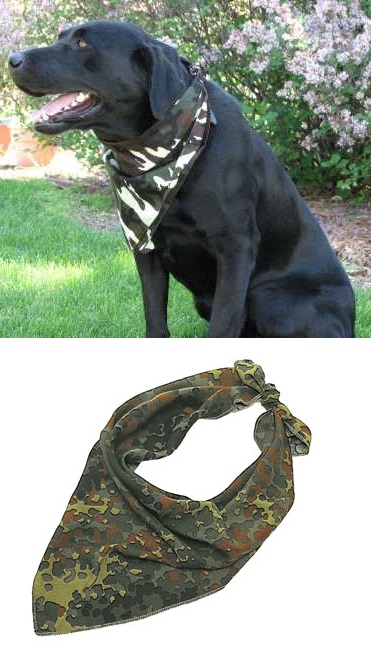 Benefits of Wearing Bandanas
1.    Hunting Escapades
One reason why the camo bandana is growing in popularity of late is that they're useful during hunting escapades. Other types of bandanas are easily visible from a distance and this makes them inappropriate for most outdoor missions where a bit of "secrecy" is vital. Along with camouflaged bandanas, many people find camouflaged hunting vests and kennel covers quite useful.
2.    Moisture Resistant
These unique bandanas are made from durable material. In fact, most varieties are actually hand-made (in the US) to ensure long-life. Besides that, they are moisture and dirt resistant – a property that makes them a pleasant choice for people who spends many hours outdoors accompanied by their pets. Moreover, the camo color does not fade easily. Ideal dog bandanas are made from 100% washable material (or soft cotton in some cases) to ensure a comfortable fit.
3.    Style statement
Getting a bandana for your dog is a good idea to camouflage your dog, but it can also have immense benefits in keeping him looking stylish. A pink camo bandana works well as a fashion statement especially for female pets. Getting a blue camo bandana is also a sure way to turn heads in the street as you take a walk with your dog.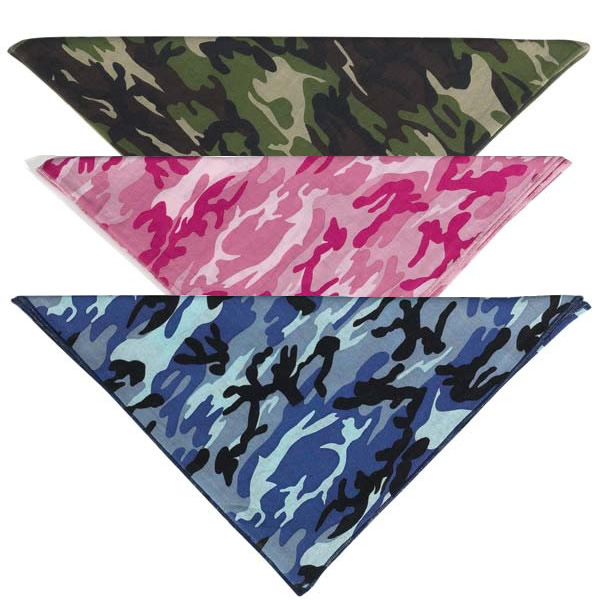 Size, Design, and Style Varieties
These bandanas come in a wide variety of sizes and styles. It's easy to find just the right fit for your dog provided you take time to research a bit. Also, one should always ensure to work with a reputable seller for purposes of clear communication and avoidance of delivery mistakes. Small-sized (often around 27 inches) bandanas are perfect for small dogs such as:
Corgis
Shih tzus
Chihuahuas
Large breeds of dogs including Great Danes, German Shepherds and Labradors use bigger bandanas of about 30 inches. Always make sure to find the right bandana size to avoid making your dog uncomfortable.
The Digital Revolution
A typical digital camo bandana is made from digital linen which is considered one of the strongest plant fibers used in the textile industry. With its low static and piling it offers remarkable breathability by letting air flow through it. Bandanas made using this revolutionary technology have a remarkable ability to absorb lots of moisture while remaining dry to the touch. Note that you can always order for customized bandanas from merchants who provide that service.
To sum it up, when looking for quality bandanas for your dog, always make sure to find ones that fit well. Take time to talk to your supplier before placing an order. You may also want to consult a reputable buying guide to understand the nitty-gritty of these bandanas before placing an order. That way you'll ill-fitting or wrong colored dog camo bandana delivered to you.